A Case for Economically Viable Small Farms that Benefit Community and Economy
May 19, 2015 | Robert Puro
Across Southern California, a new breed of small farmer is emerging to not only take advantage of the growing demand for local food, but also to connect urban communities to their food. These farmers are nimble, resourceful and pushing the limits often working on backyard plots within or on the outskirts of cities that are less than 1-acre in size. Yet they are creating economically viable business models by growing salable produce on every inch of their land.
To learn more about how farmers are successfully growing on small lots and how this type of small plot agriculture might benefit your city and community, or even find a place in your own backyard, you won't want to miss the GrowRIVERSIDE Conference breakout session entitled "Developing Urban Farms that Benefit City, Economy and Community" featuring: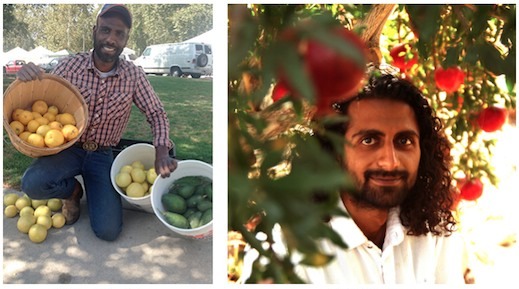 Hop Hopkins, co-founder of PANTHER RIDGE FARM, is a certified Arborist, a Master Gardener, has his Basic Permaculture Design Certificate and is a certified Community Emergency Response Team (CERT) instructor. He received his BA from New College of California as a graduate in the Culture Ecology & Sustainable Communities program. He and his wife, Adalila Zelada-Garcia, steward a quarter of an acre of land inhabited with chickens, honey bees, and multiple compost piles. Hop is an active member of the Urban Agriculture Working Group of the Los Angeles Food Policy Council.
Rishi Kumar is an ecological designer, urban farmer, and educator. Since 2011, he has operated The Growing Home, an urban farm and model of suburban sustainable living based near Los Angeles. Rishi's work has been featured by the Los Angeles Times, GOOD Magazine, KPCC, KPFK, KCRW, and the urban farming documentary "Urban Fruit". Rishi has a background in Computer Science, with degree from UC San Diego. He has apprenticed at Vandana Shiva's Navdanya Farm in Dehradun, India. Rishi is a Master Gardener and Permaculture Design Certificate holder.
GrowRIVERSIDE is only 24 days away, so click on the link below to reserve your spot to hear Rishi Kumar and Hop Hopkins discuss how you can leverage small plots from your backyard to a vacant lot to create thriving urban farms that benefit the city, economy and community:
http://growriverside.eventbrite.com
Additional Confirmed GrowRIVERSIDE Speakers:
A.G. Kawamura – Former Secretary of the California Dept. of Food and Agriculture (2003 – 2010)
Cheryl Garner – Executive Director of Dining, Conference and Catering Services at University of California, Riverside
Pierre Sleiman – Founder of Go Green Agriculture
Gene Giacomelli – Director of the Controlled Environment Agriculture Center (CEAC) at University of Arizona
Bob Knight – Founder of Inland Orange Conservancy and Old Grove Orange, Inc.
Fortino Morales III – UC Riverside Community Garden Coordinator
Kathleen Reed – Sustainable Food Program Manager for Kaiser Permanente
Justin Scott-Coe – Public Affairs Director for Monte Vista Water District
Mark Winne – Co-founder of the Connecticut Food Policy Council
Ramiro Lobo – UCCE Small Farms & Agricultural Economics Advisor
Robert Egger – Founder and President of L.A. Kitchen
Dwight Detter – Local Forager for Whole Foods Market
Viviana Franco – Executive Director of From Lot To Spot
Robert Tse – State Broadband Coordinator for USDA CA Rural Development
… And more!
Register here: http://growriverside.eventbrite.com
More information on the conference: http://growriverside.com
Categories