Citrus Greening Disease and Unsustainable Prices Pose Challenge to City's Agricultural Heritage
March 23, 2016 | AJ Hughes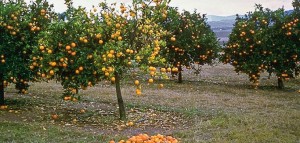 "Riverside oranges are a beautiful commodity, and have the best taste ever," says Riverside farmer Brian Griffith. But in the face of citrus greening disease and unsustainable prices, can the citrus industry in Riverside, California endure?
To get an answer to this question, we spoke with an entomologist and two orange growers. The entomologist is confident that Riverside citrus will survive citrus greening disease (otherwise known as HLB), and both growers are moving forward with realism tinged optimism. At the moment, though, there are no easy answers—only complex ones.
Insect Helped Expose Existing Problems
The Asian citrus psyllid, a sap-sucking insect native to Asia, was first found in Florida in 1998. Now, it has made its way to the West Coast. The bug is one of two vectors of HLB (the other is the African citrus psyllid). It poses a serious threat to all citrus trees, and currently there is no cure.
Bob Knight, an orange grower from Redlands, California and founder of Inland Orange Conservancy and Old Grove Orange, believes the southern California citrus industry was already in deep trouble and that this new invasive pest served as a catalyst to bring other issues to the surface.
"Citrus was not sustainable even before the Asian citrus psyllid," Knight says. "No one was growing oranges to make money, so farmers would have had to diversify anyway."
"It's almost unrealistic to say oranges are profitable in Southern California," echoes Griffith, pointing to land prices of more than $100,000 per acre. "To rely on traditional marketing as it exists now, there is no profit."
Coping with a Serious Threat
"Asian citrus psyllid is a big deal," says Griffith, who reluctantly sprays orange trees that were planted more than 75 years ago. "We can't put our heads in the sand."
"I will grow oranges for as long as I'm able," says Knight, whose trees were planted by his great-grandparents.
As much as Knight wants to keep growing oranges, he realizes that a day may come when he is no longer able to.
"Every move should involve working on plan B, preparing for sudden shock," he says.
Like Griffith, he sprays his trees, but knows that current treatments only have the power to delay HLB.
Diversifying
Knight's plan B includes diversifying the crops he produces. For now, he has expanded to a large variety of vegetables and berries.
"I like short-season vegetables so I can switch to something else if I want," says Knight, who grows more than 40 kinds of vegetables.
"There's all kinds of unique and interesting stuff you can grow here," says Griffith. "Figs, olives, persimmons, grapes, pomegranates and mangoes grow very well here."
But some members of the brassica family (cabbage, broccoli, Brussels sprouts and more) that do well in Riverside can fall prey to another invasive insect—the bagrada bug.
"Bagrada bugs attack brassicas, so they must be planted in summer or early fall," Knight says. Bagrada bugs aren't as active during these times of the year.
Are Avocados a Good Alternative?
Some think that if the Riverside citrus industry collapses, avocado-growing can take its place. Not so fast, says Griffith.
"Fallbrook (located south of Riverside, in San Diego County) is better for avocados," he says. "It's a real struggle to grow avocados in this area."
Even farmers who harvest bumper crops of avocados will face the same problem that beguiles orange growers, says Knight—namely, low prices.
"With avocados, packers set the price," he says. "Avocados follow the same model as citrus—it's just like orange growing but with a different color. Also, you're producing a monocrop—all your eggs are in one basket."
Due to the amount of avocados sold, Knight says it's virtually impossible to direct-market them. That said, he believes that avocados are the answer for some farmers, as they're easy to grow.
Griffith believes that those switching to avocados would be wise to grow varieties other than Hass (the most common variety grown in Southern California). This would give them an advantage in pricing.
Fighting HLB
Because she and her colleagues believe there is much hope for the citrus industry in Riverside and the rest of California, University of California-Riverside entomology postdoctoral scholar Erica Kistner is involved in a large proactive approach to combat HLB.
She says a variety of tactics are being used—they include chemical and biological controls, removing infected trees, genetic engineering, and enlisting the help of homeowners with citrus trees in their backyards.
A variety of insects, including lady beetles and hoverflies, are among creatures on the front lines fighting the Asian citrus psyllid, which is a tasty snack for these bugs. Scientists are also bringing in insect help from afar to bolster the troops. A small parasitic wasp native to Pakistan, Tamarixia radiata, is the natural enemy of Asian citrus psyllid. USDA and other agencies have introduced this wasp to citrus-growing areas in the United States, hoping to establish a permanent presence.
Asian citrus psyllids also have unwitting insect allies—Argentine ants, which, despite their name, are endemic to Southern California. They're fond of a certain secretion from the psyllids, and once the ants converge on their coveted treat, they become an impediment to predators. Kistner advises homeowners to place liquid poison bait for Argentine ants—once they're gone, then predators of Asian citrus psyllids can do their jobs.
Kistner also advises homeowners who have citrus trees to regularly check for symptoms of the disease. These can be found be visiting the University of California Pest Management web site and clicking "Asian citrus psyllid".
"If homeowners can help, great," Kistner says. "We don't want urban areas to become incubators for flying syringes."
Another strategy is hybridization, since certain breeds of citrus (such as mandarin orange) seem to be more resistant to HLB. Despite the presence of Asian citrus psyllid, Kistner hopes people in Southern California cities will continue to plant citrus trees of a variety of types.
"I encourage people to continue to grow trees in urban areas—this will allow natural enemies to take over," she says. "But fruit growers, even backyard ones, may have to change the types of citrus trees they grow."
One reason HLB has been so difficult to contain is because its bacteria live inside the tree, not just on the surface. Regular bactericides, such as copper, are unable to infiltrate past the plant's surface. But Swadeshmukul Santa, professor at the University of Central Florida's Nanoscience Technology Center, has developed Zinkicide, which contains nanoparticles smaller than cells. Zinkicide is still in the testing phase at the University of Florida, but scientists hope it can infiltrate a plant to attack lurking HLB bacteria.
Looking Ahead
"The citrus industry won't go extinct," says Kistner. "There's a big effort here to combat this—we're working on all different fronts."
But if HLB can be eradicated, economic problems may remain. To this end, Griffith sees HLB as a wakeup call to a Riverside citrus industry in need of reinvigoration. He would like to drive up demand for Riverside citrus through a branding effort of sorts, similar to Napa being known for its wine, Indio for its dates, Gilroy for its garlic, and Georgia for its peaches.
"The key is to get the message out," he says.
This article was originally posted to Grow Local Riverside: http://www.growriverside.com/in-face-of-citrus-greening-disease-and-unsustainable-prices-can-riversides-citrus-industry-endure/
Categories