Just 16 Days Remain Until Local Food-Focused GrowRIVERSIDE Conference!
May 26, 2015 | Robert Puro
Just 16 more days remain to register for the 2nd Annual GrowRIVERSIDE Conference – The Future of Local Food, which begins on Thursday, June 11, 2015 at The Riverside Convention Center in Riverside, California.
The conference will assist cities in examining and developing solutions to develop and strengthen their local food and urban agriculture infrastructure. Experts in farming small plots, new business creation, local food marketplace development and community food access will come together to offer solutions on how Riverside can become a model for other cities to follow.
Limited Tickets Remain! Register here: http://growriverside.eventbrite.com
The event will feature a broad lineup of speakers ranging from urban agriculture entrepreneurs, USDA representatives from Marketing Services and Rural Development, startup business experts from the Small Business Administration, SCORE and the Veterans Sustainable Agriculture Training program, local food policy experts, sustainable farmers and hydroponic practitioners as well as numerous buyers and distributors of local produce; and will cover a variety of topics, including: Developing Economically Viable Urban Farms, How the Local Food Market Opportunity Strengthens Community, Environment and Economy, Developing Urban Farms that Benefit City and Community, Launching an Indoor Farming Enterprise in the City and more!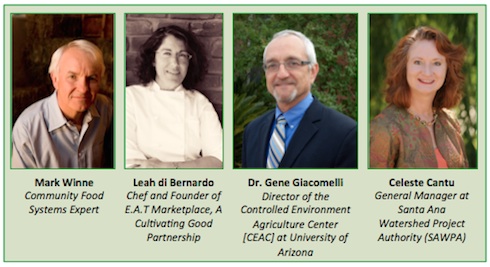 Limited Tickets Remain! Register here: http://growriverside.eventbrite.com
Select Confirmed Speakers:
Rodney K. Taylor – Director of Nutrition Services, for the Riverside Unified School District
Kathleen Reed – Sustainable Food Program Manager at Kaiser Permanente
Elvis Cordova – Deputy Under Secretary for Marketing and Regulatory Programs at USDA
Paul Smith – Economic Development Specialist at US Small Business Administration
Robert Egger – Founder and President of L.A. Kitchen
AG Kawamura – Former Secretary of California Dept. of Food and Agriculture and Co-chair of Solutions From the Land
Cheryl Garner – Executive Director of Dining, Conference and Catering Services at University of California, Riverside
Tracy Kahn – Curator of the UCR Citrus Variety Collection
Bob Knight – Founder of Inland Orange Conservancy and Old Grove Orange, Inc.
Fortino Morales III – UC Riverside Community Garden Coordinator
Rishi Kumar – Founder of The Growing Home
Erika Block – Local Orbit
. . . and more!
Limited Tickets Remain! Register here: http://growriverside.eventbrite.com
Categories