The Local Food Potential of Indoor Hydroponic Farming in Cities
May 22, 2015 | Robert Puro
The future of local food will not be restricted to produce grown in fields. Arable land grows scarcer and consequently more expensive by the year. Thus, many new farmers and entrepreneurs are opting to explore and pursue growing produce in controlled environments. Utilizing hydroponic technologies that typically require only 10% of the water necessary to grow similar crops outdoors, these indoor farmers can often produce more than 20 times the traditional field-crop yield in the same amount of space.
Indoor farms can also be placed anywhere – including in the middle of a city, in vacant warehouses and on land that is often much cheaper than arable land. That indoor farms can be placed in cities also enables them to provide more local food access to buyers – from restaurants and institutions to wholesalers and supermarkets.
To discuss the potential of indoor farming in cities Pierre Sleiman, founder and CEO of Go Green Agriculture, an innovative company that grows local, premium quality leafy greens inside high-tech greenhouses using hydroponics, will participate in a session at the upcoming GrowRIVERSIDE: Future of Local Food Conference entitled "The Local Food Potential of Indoor Farming in Cities."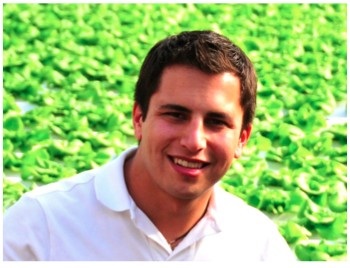 Pierre has become involved in the mission of accelerating the movement towards local and sustainable farming and fostering interest in youth to choose agriculture as an exciting career. Pierre was recently named a "Champion of Change" in the "Future of Agriculture" by President Obama. He was named as one of the "50 People to Watch in 2013″ by San Diego Magazine and was recently elected to the Board of Directors of the San Diego Farm Bureau.
GrowRIVERSIDE is only 20 days away, so click on the link below to reserve your spot to hear Pierre discuss how he developed a successful hydroponic growing operation in Southern California and the potential for indoor agriculture in cities:
Register here: http://growriverside.eventbrite.com
Additional Confirmed GrowRIVERSIDE Speakers:
Edward Avalos – Under Secretary for Marketing and Regulatory Programs at USDA
Leah Di Bernardo – Founder and Chef at E.A.T Marketplace
Paul Smith – Economic Development Specialist at US Small Business Administration
Gene Giacomelli – Director of the Controlled Environment Agriculture Center [CEAC] at University of Arizona
Robert Egger – Founder and President of L.A. Kitchen
Mark Winne – Community Food Systems Expert
AG Kawamura – Former Secretary of California Dept. of Food and Agriculture and Co-chair of Solutions From the Land
Rishi Kumar – Founder of The Growing Home
Erika Block – Local Orbit
Rodney K. Taylor – Director of Nutrition Services, for the Riverside Unified School District
Kathleen Reed – Sustainable Food Program Manager at Kaiser Permanente
. . . and more!
Register here: http://growriverside.eventbrite.com
Categories